This month, Meadowood turns 31 years old, however the inspiration for this unique community happened over 37 years ago. A community of neighbors, set on a large, sprawling campus enjoying each other's company and thriving in a collegiate atmosphere. That was the vision that sparked the initial Board of Directors in 1982 where residents, board and management would come together to create and operate a dynamic community for older adults.
Bill and Sylvia Strasburg, the founders of Meadowood Senior Living, took great care when developing Meadowood. Bill wanted to create an atmosphere where seniors could experience "country living" and a collegiate atmosphere. Where retirement didn't mean slowing down, it meant giving back and thriving. Sylvia's experience volunteering for the local Meals on Wheels program sparked the passion to create Meadowood, as she saw many seniors become isolated in their own homes.
This mission and vision that the Strasburg's envisioned lives on today. Meadowood's sixteen member board of directors consists of professionals from a variety of backgrounds and industries as well as two resident members with full voting rights. In addition, there are several board-level committees that have board members, residents and staff making decisions and planning for Meadowood's future. Some of these committees include: Finance, Marketing, Building and Health Services.
Living Wellness at Meadowood              
Meadowood is known for it's sprawling 131 acres, beautifully landscaped campus and over a mile of well-maintained wooded trails. A community set in the midst of natural beauty is the perfect backdrop for the Six Dimensions of Wellness, a philosophy that helps the community to stay true to the mission of "providing the highest level of care to all who experience Meadowood." The six dimensions are: spiritual, social, occupational, emotional, environmental and physical.
Meadowood has been considered ahead of it's time when it comes to wellness. The community continues to invest in the staff, fitness and wellness facilities, as well as the programming. The fitness and wellness team is comprised of  credentialed and experienced professionals. There are seven employees, including two full-time Bachelors and/or Masters prepared, nationally certified personal trainers as well as certified aquatics staff. Rounding out the team of 11 are four contracted specialists who teach Yoga, Tai Chi, high-intensity land and water classes and line dancing. Why is this important? You want to know that if you are working with a fitness specialist, they are trained and can design a program that provides the maximum benefit for you.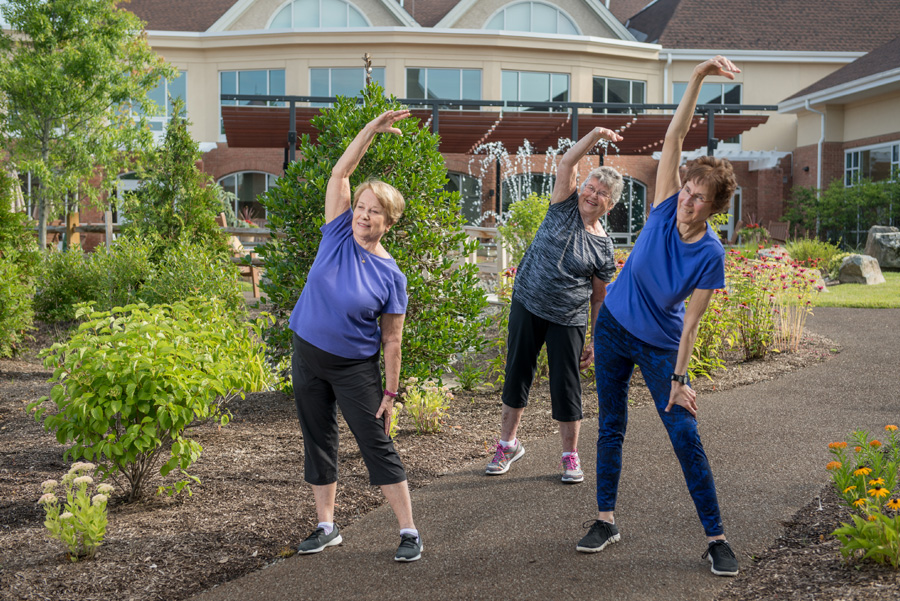 Looking Forward
As Meadowood looks towards the future, the community is poised to adapt and grow to meet the changing desires and needs of the current and future population of seniors. Whether that means providing a vibrant, active community for residents to enjoy or delivering care and services to our Meadowood At Home members. Meadowood is truly the expert in senior services in Southeastern Pennsylvania.