One of today's biggest living trends is small spaces, tiny houses and simple lifestyles focused most on family, friends and experiences. Many people, especially seniors, are finding that embracing a smaller space is just what they need as they transition to an easier, uninhibited lifestyle.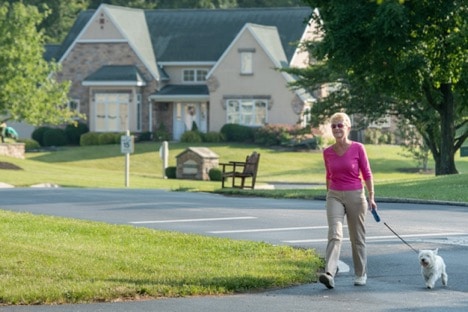 Berkshire residence, which can be found in our two-story Founder's Village and Center Bridge buildings and our Courtyard homes.  No matter which Berkshire you choose, you'll be able to easily access dining and on campus activities through either covered or enclosed walkways, so you're never stuck inside due to weather.
For its size, the Berkshire has a living area that is open and expansive, thanks to its intelligent layout and smart use of space. You'll appreciate plenty of room to relax, with natural light for both everyday enjoyment and special entertaining. The room's large picture window allows plenty of natural light to stream into the home, and the attached patio or balcony brings you closer to Meadowood's park-like, 131-acre campus.
In the bedroom, the attached patio or balcony is also accessible and increases the spacious feel of the bright and intelligently arranged space. The bedroom also includes a large walk-in closet that — combined with the Berkshire's outdoor access — gives the bedroom a suite-like feel.
Toward the front of the Berkshire residence, the well-equipped kitchen and contemporary bathroom provide the conveniences and comforts of independent living. You also have the opportunity to customize the kitchen and bathroom with your personal touches, including flooring, paint colors and fixtures, to make your Meadowood home uniquely yours.
The Berkshire has all of the necessary modern conveniences and amenities packaged in an efficient way to make your active retirement and "big" lifestyle possible. Plus, a benefit of living at a Life Plan Community like Meadowood is that you don't need to worry about home maintenance or repairs, and if you like, we'll do the cooking!
Does the Berkshire residence at Meadowood sound like the best fit for you? We'd be happy to host you on a personalized tour and show you how a simpler, smaller space can expand your lifestyle. Click here, or call 610-584-3998 today to schedule your tour!