Equine Therapy at Meadowood started as a six-week pilot program "because we didn't really know whether the residents would be interested," said Becky Anhorn, Meadowood's Director of Fitness and Wellness.
Well, the residents were not only interested, they were ecstatic.
"When we developed this program, we didn't really fathom what the outcome was going to be," continued Becky. "It was a new program, we just thought it would be fun for the residents. It has far exceeded our expectations. It's few and far between that you find a program that just blows your mind."
"There was an expectation we had going in that it would be a good activity, but it turned into an emotional journey that impacted both the family and the residents," she said.
Eileen Joseph, Meadowood's Certified Dementia Professional, who created the program with Becky, agreed. "For me, working as I do with people living with dementia, it had to be one of the most heartwarming experiences I've had in my career," she said.
How the Equine Therapy Program Works
After an assessment process, four residents, three from memory care and one living in our independent community, were chosen to participate along with their family members.  The eight participants, along with Becky, Eileen and other team members, visited Fun-E Farm T.O.O. in Gilbertsville, PA, weekly for six weeks.
Our trip each week began on the bus, and it soon became clear that socialization was an important part of the program.  Once arrived, the farm's instructor, Holly Schaefer, laid out a structured plan for each visit.
"She brought the horses out, people kissed and hugged, and polished saddles. Demonstrations provided all manner of harnessing, brushing, braiding manes, along with identifying various types of horses. The farm's history of each purchase, their ages, their family lines, etc. proved to be a fascinating part of the time together. With no hesitation noted, the residents walked with the horses, groomed them, fed them, cleaned and mucked the stalls. With each visit a different aspect of horse care captivated all. "On Halloween they decorated the horses. Not only did we get an opportunity to work with the horses, we were able to visit the animal barn with barn cats, goats, sheep and alpacas."
Each visit offered an educational component. "The learning piece of it was amazing," Becky said. "They would talk about the horses, learn about their histories, and whether they were rescued."
The Story of Fun-E Farm T.O.O.
"Fun-E-Farm T.O.O is designated to suit all needs, it really is a teaching farm, a perfect fit for Meadowood,  We're so thankful for them!" Becky explained.
A Former Equestrian's Story
Eileen was particularly moved by one resident's story. "She was an equestrian during her early life and her excitement was palpable on each visit. "The first day when we entered the stables, she just started crying — it was familiar to her. She was heard to say "Oh my God, the smell alone, I am so excited.' She didn't miss a beat, she walked in with no fear and kissed the horses. She was given a shovel and a pail — and effortlessly mucked out the stalls. She never thought twice — she knew how to braid the manes, how to pick up the brushes — as though it were yesterday."
Unforgettable Experiences
When residents with dementia have experiences, short term memory recall is often not available. But the memories of the equine therapy program seemed to be more vivid and lasting.
"We went to the farm on Tuesdays. When I saw residents on Friday at times they remembered me and identified me as someone who went to see the horses with them," Becky said. "They'd say, 'It's so good to see you, I can't wait to go back and see the horses.'"
A Few Words From Our Families
After the program, Becky and Eileen were inundated with emails from family members. In their own words, here are some highlights of their experiences.
Rebooting Interest in Life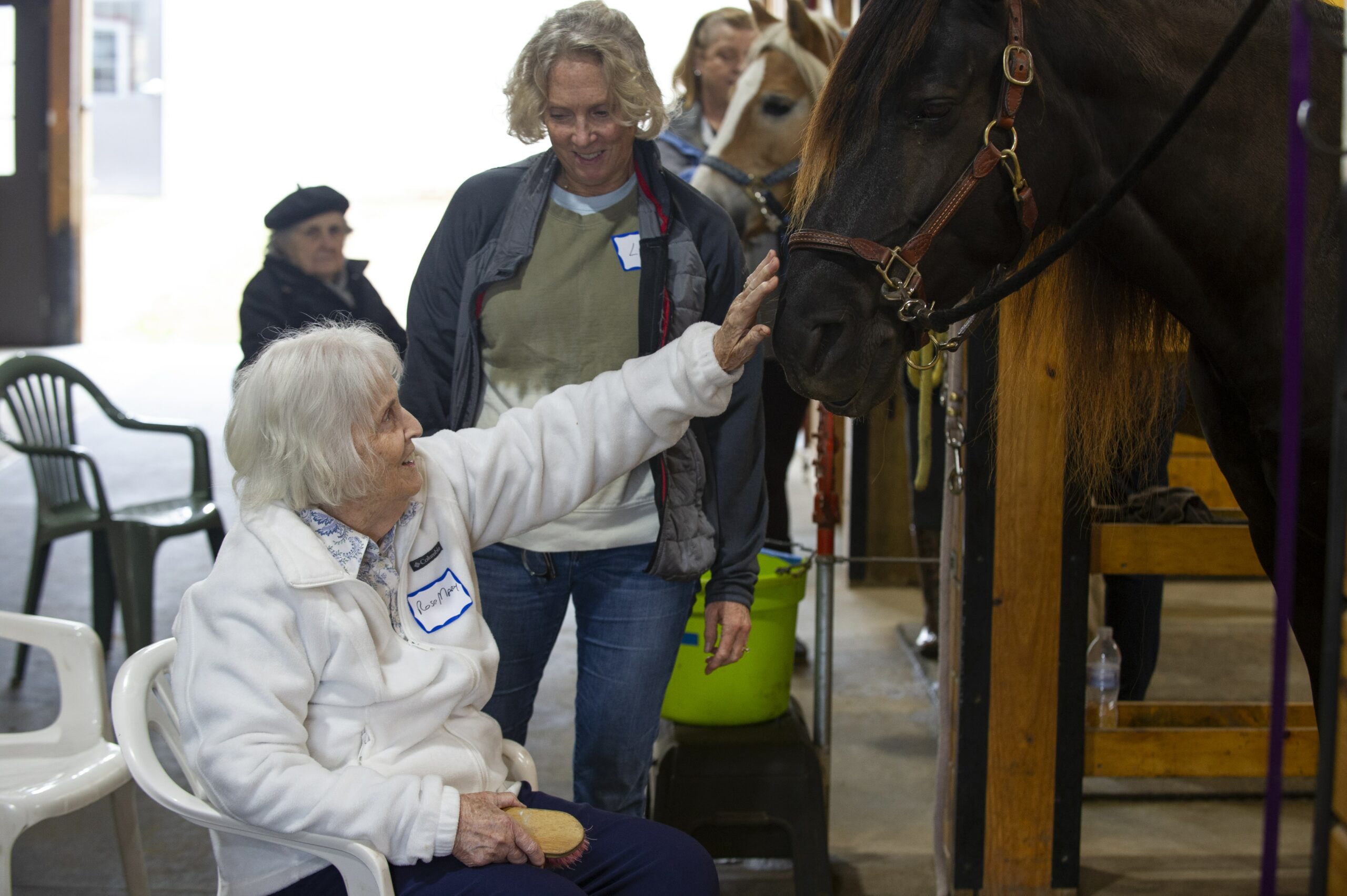 Check out this video of Equine Therapy at Meadowood: