Meadowood's celebrated resident artist (and Renaissance man) Bill Bourne is known for his watercolors. And his murals. And his pen-and-ink drawings. And his cartoons, with commentary on topics from politics to COVID-19. Not to mention his longtime career as a commercial artist and silkscreen printer. Oh, and he has a background in theatre set design. Are we missing anything? Probably.
Bill's variety of projects is rivaled only by his formidable talent and his longtime dedication to his craft.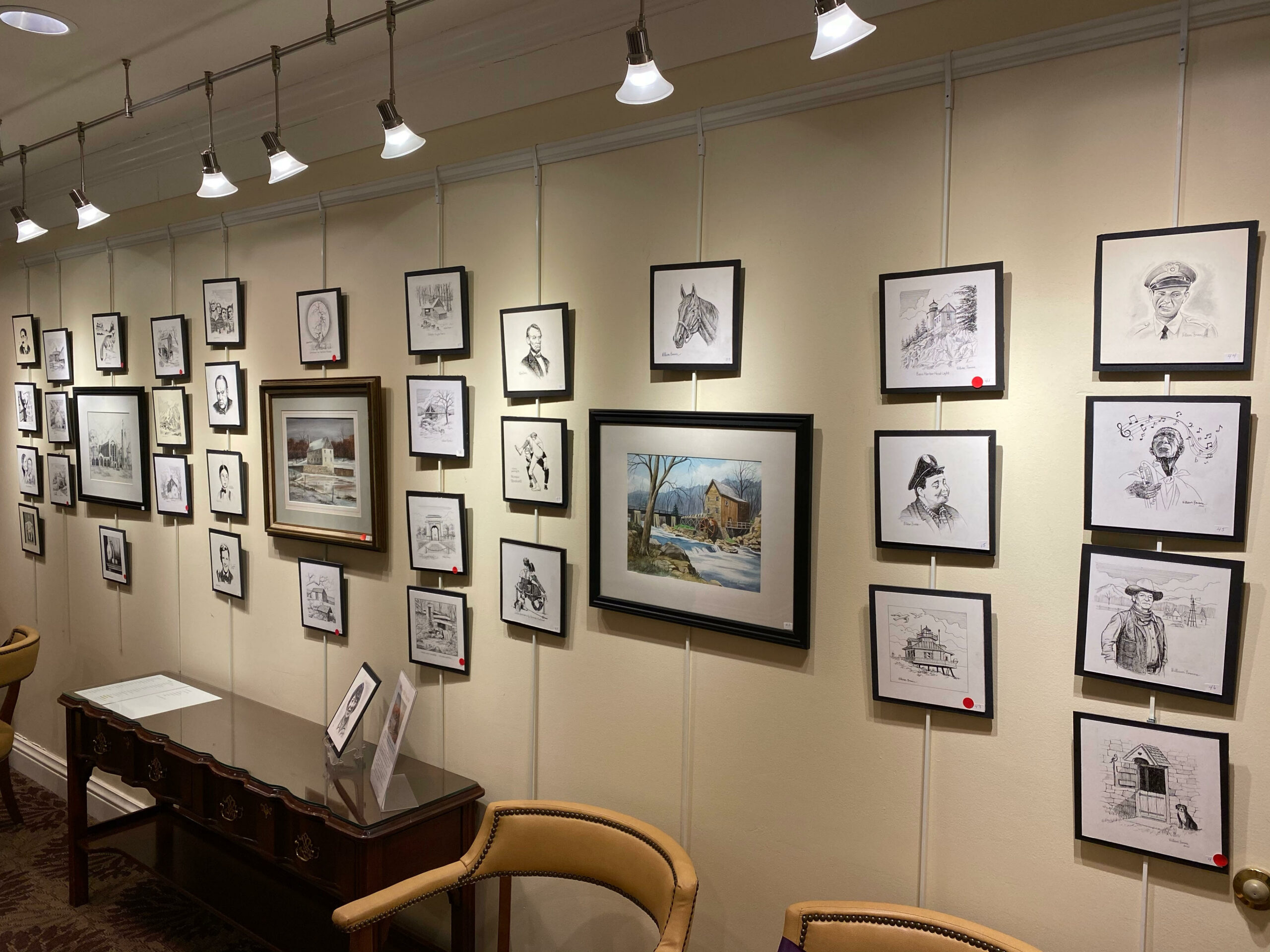 Peter Wentz Farmstead. "That was an easy subject," he said. "I've done a dozen paintings of the farmstead."
Rave Reviews for the Meadowood Art Studio
Bill's favorite place to paint landscapes these days? The Meadowood art studio.
"Until I started doing these pen-and-ink drawings, I had been doing mostly watercolors in the studio. It was a really good place to work — lots of room and a lot of light," Bill says.
"After my wife died and the art studio closed down because of COVID, I moved my drawing table into the den and turned it into an art studio," Bill explains. "Because of space issues, that wasn't very conducive to doing watercolors. That was why I started doing the pen-and-inks."
"I'll get back to doing watercolors once the art room is open," Bill says, extolling the studio's many advantages. "It has a southern exposure, a lot of light, and lots of room, there's room to store your art supplies — it's very convenient and very conducive to painting."
The Artist's Advice for Those Who Want to Create
"I found that, for myself, having the ability to do creative things is a great help in enjoying retirement," Bill says. "I just can't wait to get up in the morning to work on a project that is waiting for me to get going."
He works on something art-related pretty much every day. "I keep a to-do list and work my schedule around it. Sometimes I go the studio and draw, sometimes I finish a piece using the computer, or I might have a meeting with somebody about a project."
Bill's favorite work of art? "I have a painting that I dedicated to my wife — it's a painting of her feeding chickens when she was six years old," he says. "I have it hanging outside the dining room at Meadowood."'