When Carina Villalvazo talks about working at Meadowood, she breaks into a big smile. There's a twinkle in her eyes, and her voice is filled with love and excitement as she talks about what it's like to work here.
While Carina is soft-spoken, she's eager to share her enthusiasm for her job and the residents. As she speaks, she apologizes for her English. But, despite that, it's easy to understand Carina — and to understand why she absolutely loves her job.
You'd never know from talking with Carina that the path leading her to Meadowood had a few rough spots. Carina is one of those people who exude a positive attitude, one that's simply contagious.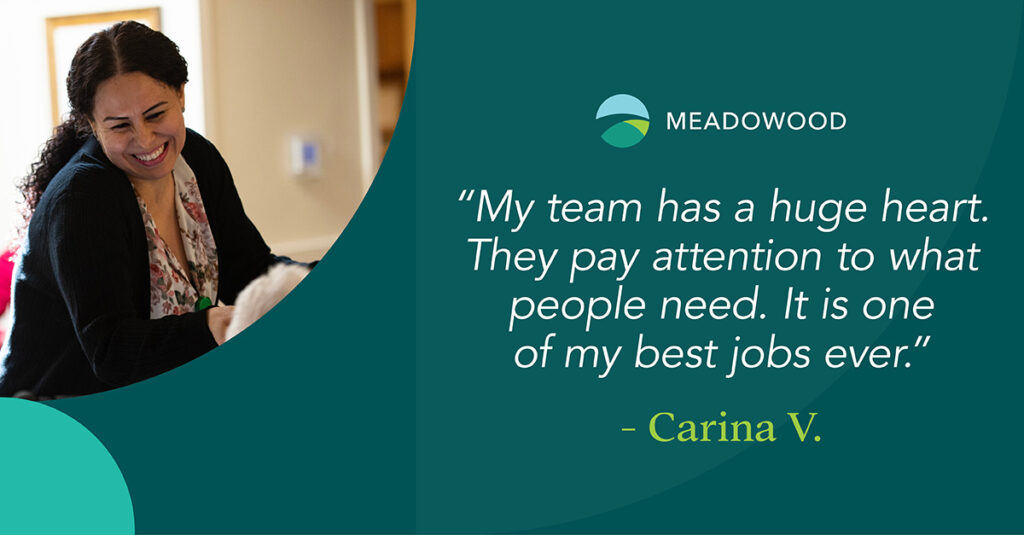 Carina has been employed at Meadowood for three years, starting out as a housekeeper. "They made me feel welcome," she recalls. She now works as a Life Enrichment Assistant in Holly House during the week and in Laurel House when she works weekends. A friend had recommended she apply for a job here, and she worked on the housekeeping staff for two years. Since her promotion 10 months ago, she has been part of the Life Enrichment Department.
In that time, she has experienced a few changes, both personal and at Meadowood in general, referring to its new logo. "They gave me the opportunity to grow," she says matter-of-factly about her new role and added responsibilities. However, Carina is quick to allude to the fact that at Meadowood there are no egos. "Everybody is humble in this place." And Carina is the perfect example of that.
"Every day when I wake up and I come to this job I'm feeling like it's a blessing," she says. A "typical" day for Carina starts at 7:30 in the morning. She starts her day by skimming the newspaper about current events and then goes to talk with residents before heading to the office to check her email. No two days are the same at Meadowood. On some days Carina motivates residents to exercise with prompts such as, "Come on, you can do it!" Other days, she's running trivia games, playing cards or dominoes, dancing to music. Sometimes she talks about her native Mexico. "I try my best. That's what I do."
Asked what her favorite thing is about working at Meadowood, she's quick to respond: "My favorite thing? Well, I have too many!" She laughs and says it's spending time with the residents, regardless of whether there are planned activities.
While Carina says the staff are not supposed to have favorites when it comes to the residents, she does share that one resident in particular reminds her of her grandmother. "That lady is so sweet and quiet," she says, smiling.
The same caring connection between residents and staff at Meadowood can also be found among her coworkers. "I have a wonderful relationship with them," Carina says. In the Life Enrichment Department, she adds, "We are a wonderful team." She previously worked at a nursing home and says that what makes Meadowood different is the care and concern for everyone, residents and staff alike. "They have a huge heart. They pay attention to … what people need," she says. Meadowood is constantly looking for ways to improve; every month staff participates in continuing education classes on topics such as dementia and abuse.
When Carina's not at Meadowood, she enjoys spending time with her boyfriend. A divorced mother of three daughters and one son, Carina beams as she mentions that one of her daughters graduated from Penn State University. "I'm so proud of her!" she exclaims.
The love she has for her biological family spills over to her extended family at Meadowood. She notes that many residents don't have family members nearby. "I love them," she gushes. "When they hug me, kiss me, they make my day.""I think it's one of my best jobs ever," she says, flashing her heartwarming smile.