Explore a Naturally Beautiful Campus
Our grounds, like our residents, get better with age!
Since its beginnings, Meadowood has always been known for the exceptional beauty and scenic living of its campus, with its endless groves of trees, bursts of flowers and plants and abundance of local wildlife. Nestled into 135 sprawling acres in Worcester Township, PA, the retirement community's residential areas are filled with personal gardens, and its senior living community victory garden showcases a striking display of flowers, fruits, vegetables and ornamental trees. In 2009, the Philadelphia Horticultural Society recognized Meadowood for its stunning natural beauty. In 2018, Meadowood received the Norristown Garden Club's prestigious Landscape Design Award for its Woodland Garden.
The Meadowood Nature Preserve
The Meadowood Nature Preserve — a feature rarely found in active adult communities — is an environmental initiative of Meadowood and the Worcester Township, PA, community to promote awareness, appreciation and improvement of our local natural resources. It is driven by the efforts of volunteers, residents and organizations that are committed to protecting our woodlands, streams and wetland areas. The Nature Preserve serves as an active resource for education, good citizenship and community outreach across multiple generations.
A horticulturist with heart
A therapist, she shares the healing power of nature
In addition to maintaining the senior living campus, horticulturist Patti Loughridge (HTA) and the grounds staff help design, build and maintain resident gardens, planters and personal landscaping. Patti strongly promotes green initiatives throughout Meadowood and enjoys working with residents. Under her direction, the community offers several therapeutic programs that enable residents to benefit from the healing qualities of nature.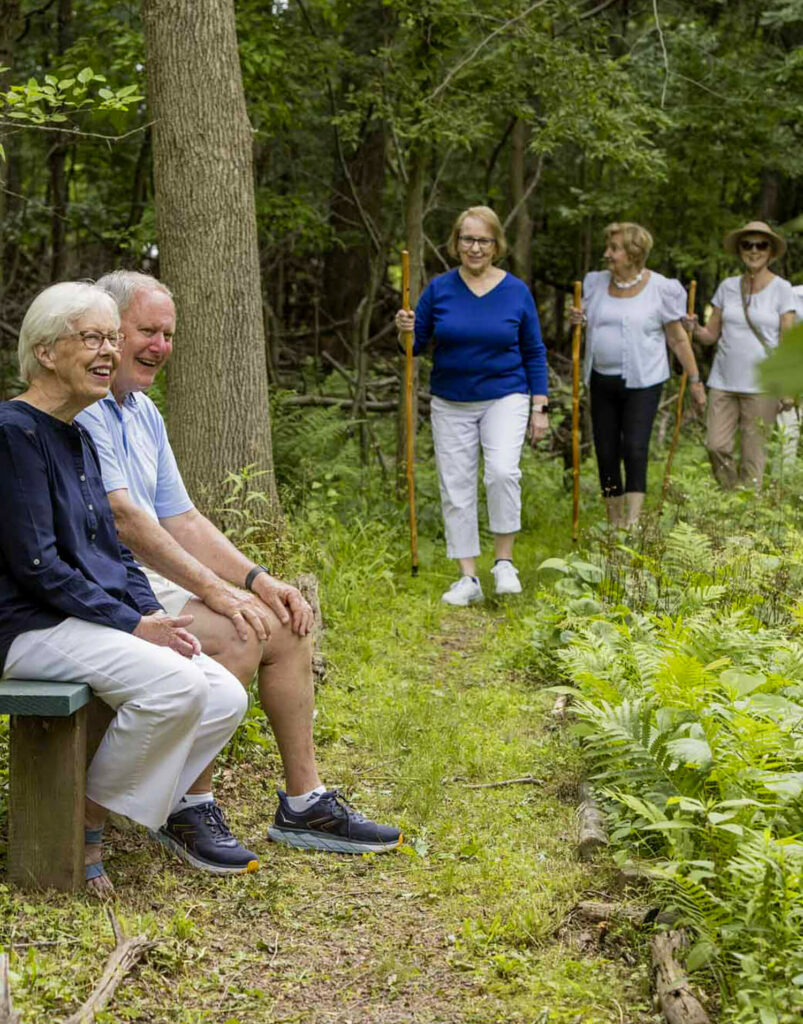 Giving back to nature
Your donation can help preserve the beauty of Meadowood
For more information about giving opportunities for the Meadowood Nature Preserve, contact Jody LaVerdure, Director of Fund Development & Community Relations, at (484) 991.1025.
Download The Campus Map
Meadowood Is Where It's At!
Get a lay of the land with our color-coded campus map. It's easy to find what you're looking for, starting with our residences, community center and health center. Locate our fun spots and trace your finger along our walking trails.
Experience Meadowood Video
Sit back, relax, and spend a few minutes getting to know us better. We're more than just a Life Plan Community, we're a neighborhood where folks look out for one another. We're a campus bustling with activity and blossoming with the beauty of nature. We're a community with top-notch healthcare services.
At Meadowood we uplift one another
While Meadowood's residences, programs and services are designed to meet individual needs, we come together as one community. Staff and residents alike are here for each other, creating a strong sense of belonging.
Schedule A Visit