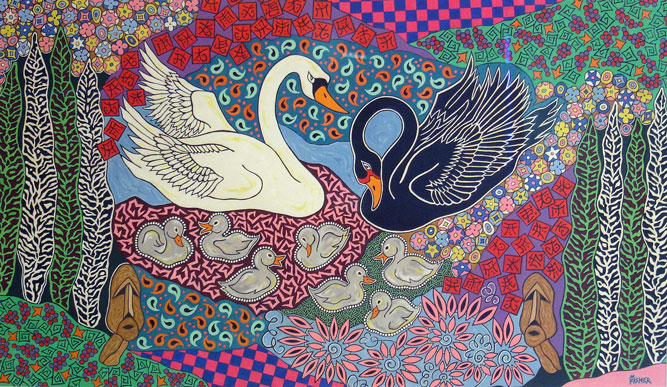 Join us for our seventh juried art show on Friday, Saturday and Sunday (March 31-April 2, 2017).
Artists – click the link below for the registration form and more information.
Meadowood 2017 Art Show Registration
Hours are Friday: 6-8pm, Saturday: 11a-4pm and Sunday 1pm-4pm.
This year's featured artist is Melanie Fisher. Having received her B.F.A from the Columbus (Ohio) College of Art and Design, Melanie Fisher spent her early career as a graphic designer and received the 1985 Award of Excellence from the Columbus Society of Communicating Arts.
Interested in art history, Melanie received an advanced degree in the field (Ph.D. from The Ohio State University) and taught both commercial design and art history at Fairleigh Dickinson University in Madison, New Jersey.
Melanie devotes her creative time to painting and illustration. Much of her inspiration comes from her longstanding interest in patterns. Influenced by such diverse areas as fabric design, glassblowing, ethnic symbols, and geometry, Melanie's goal is to create sophisticated compositions that are both decorative and intriguing.
Her paintings have been exhibited at a number of private galleries in the U.S., as well as The State Museum of Pennsylvania, John James Audubon Center, and Fairleigh Dickinson University.
Melanie Fisher lives in Chester County. In 2013, she founded JAM Gallery in Malvern.